El Valle Golf
Autovia Murcia - San Javier km. 4, E-30155 Baños y Mendigo, Murcia, Spain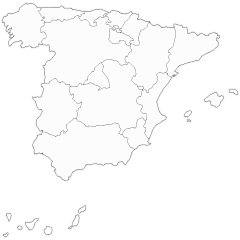 5-day forecast
A desert challenge - The El Valle golf course has 18 holes, is par 71 with 4 tees and has a subtle desert feel to it. It has 2 lakes, streams, small waterfalls and groups of bunkers all surrounded by rocks and abundant native vegetation which make this course one of the great challenges of the Nicklaus Golf Trail.
18-Hole El Valle Golf Resort Course
Design: Gary Nicklaus
Terrain: Water hazards
Scorecard
| Tee | Par | CR | Slope | Length |
| --- | --- | --- | --- | --- |
| Black (Men) | 71 | - | - | 6145 m |
| Blue (Women) | 71 | - | - | 5551 m |
| White (Men) | 71 | - | - | 5240 m |
| Red (Women) | 71 | - | - | 4331 m |
Practice Facilities
Driving Range
Practice Area
Putting Green
18-Hole El Valle Golf Resort Course
Visitors - on request.
18-Hole El Valle Golf Resort Course
| Green Fee | Mon - Fri | Sat, Sun, Holidays |
| --- | --- | --- |
| 18 Holes | 65 € | 65 € |
| 9 Holes | 45 € | 45 € |
Club Amenities
Clubhouse
Locker rooms
Club accepts credit cards
Pro Shop
Restaurant
Bar
Rentals
Clubs for hire
Trolley for hire
Electro-trolley for hire
Electro-cart for hire
Most Recent Reviews Again in great shape
5.0 of 5 starsReviewed March 11, 2015
Everything has improved since last time.
Better service, better staff,, and the maintenance just amazing
great job Automatic translation
Original version
Decline
3.0 of 5 starsReviewed March 1, 2020
No question, the course has a very good layout. But the condition can only be described as pitiful. Greens littered with pitch marks, bunkers totally neglected, fairways peppered with divots... this is no longer the place we played two years ago and it was good to excellent in every respect. Now the policy is taking revenge on everyone, but really just letting everyone on the pitch just to make even more money. A foursome played in front of us with a total score of approximately 600 (!) Strokes. There are more than five hours of play time programmed. There is no time to repair or avenge bunkers. Marshall was first seen at 17. Geenkeeping has not covered itself with fame either. You can't put an already tight tea box in such a way that I as a left-hander can no longer pull out with the driver without touching round hanging branches. Will probably leave the place in the future.
Translated by Google. Automatic translation
Original version
Best Place
5.0 of 5 starsReviewed March 18, 2019
Our favorite place on the Nicolaus Trail! Unfortunately, many others think that too, because we have not been able to get hold of more start-up times to reasonably tolerable times of day. Either before 8:30 or after 14:30 was the answer. Pity! In addition, only 3 days in advance can be booked. Since then you have already opted for another place.
The individual cable cars in El Valle are wonderfully integrated into the rocky landscape, especially from train 7. The edge development holds nobly back. The fairways were also perfect despite the dryness, Bermudagras thank you! The fast and often elevated greens require a certain acclimatization time. Bunkers and water hazards were not covered in the game.
A very harmonious place that we would like to play more often.
Translated by Google.