Lisbon Sports Club
18 Hole
Lisbon Sports Club
Casal da Carregueira, Belas, P-2605-213 Belas / Lisboa, Portugal
Phone: +351 21 431 0077, Fax: +351 21 331 2482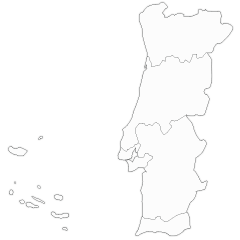 5-day forecast
Golf Packages
with Lisbon Sports Club
The course originally only had 14 holes and was only later on expanded to 18 holes. Situated in the close vicinity to Lissabon it is embedded in the romantic environment and demands because of its numerous water hazars, which influence the game at 12 holes, skills and strategy.
18-Hole Lisbon Sports Club Course
Design: Hawtree & Sons
Terrain: Undulating with water hazards
Technical difficulty: Moderate
Scorecard
| Tee | Par | CR | Slope | Length |
| --- | --- | --- | --- | --- |
| White (Men) | 69 | 68.6 | 120 | 5309 m |
| Yellow (Men) | 69 | 67.3 | 118 | 5029 m |
| Red (Women) | 69 | 70 | 125 | 4658 m |
Practice Facilities
Driving Range (5 tees)
Putting Green
Pitching Green
Practice bunker
18-Hole Lisbon Sports Club Course
Visitors are welcome every day.
Advance booking is essential.
A valid handicap certificate from player's home club is required.
Handicap limit: men 28, women 36
Etiquette
No dogs allowed.
18-Hole Lisbon Sports Club Course
Green Fee
Mon - Fri
Sat, Sun, Holidays
18 Holes
Regular

62 €

62 €

Juniors under 18

15 €

20 €

9 Holes
Regular

40 €

40 €
Juniors and Students receive a 50% discount.
Club Amenities
Clubhouse
Locker rooms
Outdoor pool
Sauna
Children's playground
Club accepts credit cards
Bar
Restaurant
Phone: 21-431077
Credit cards accepted.
Pro Shop
Phone: 21-4321474
Rentals
Clubs for hire
Trolley for hire
Electro-cart for hire
Caddy on request
General Information
Founded: 1922
Personnel
| Title | Name |
| --- | --- |
| President | João Salgado |
| Managing Director | Joao Donato |
| Director | Miguel Lourenço |
| Secretary | Clara Ruas |
| Secretary | Maria Moreira |
| Secretary | Jana Cristino |
| Pro | José Baltazar |
| Head Greenkeeper | Carlos Vieira |
Most Recent Reviews Slicegolfer;-)
17 Reviews
Automatic translation
Original version
Back to old times
4.0 of 5 starsReviewed March 30, 2018
Played 22.03.2018.
Beautiful place with old (English) layout.
Nice and quiet location, hardly building.
Fairways through lowlands, due to previous rainy days, very wet and therefore somewhat in the back care, the greenkeepers but were catching up.
Super nice service.
Translated by Google. Automatic translation
Original version
Altehrwürdig
4.0 of 5 starsReviewed February 28, 2017
Played February Positive:
- Very old Park Course
- To see near Lisbon and hardly Residential
- Not simply by Diversified design of the tracks
- Good maintenance of the greens and bunkers
- Very quiet
- Good value for money in the clubhouse
Negative:
- Very soft fairways (probably season)
- Dangerous paths because privacy (track 16)
- Partly chaotic player (very slow despite Cart or inconsiderate of other health), but does not affect rating
Translated by Google. Automatic translation
Original version
Sports Club
3.0 of 5 starsReviewed November 7, 2016
The Lisbon Sports Club is located about 25 minutes from Lisbon Airport and offers on so to play another 18 holes before a late flight home.
The course is not very long with PAR 69, but has repeatedly close and varied fairways that require precise game.
The place has no particular views of the surrounding countryside, but is well shielded from the surrounding neighborhood, so that you hardly notice this normally.
Tees, fairways and greens were well maintained in November 2016th The greens had an average speed on a level that is likely to be familiar to the majority of golfers.
The registration was smooth and friendly. When asked if we would be a couple or fourth in Flight informed us the Secretariat that we would play in 2 Flight, since one would not mix the play groups where possible.
At 12 there was the possibility of drinks and to buy in some snacks. All in all, a very more manageable range.

Compromises you have to make sure in relation to some other things where you have to consider whether a these are also important in addition to the game at this club.
The trolleys are thrown together and is a good chance that you get a subset, of the collapses may on the lap due to old age (as happened with us).
The clubhouse still breathes the charm of the early years and certainly has little to do with a glossy Club. The gastronomy offers 7 or 8 dishes and has the charm of a Portuguese pub.

All in all, the Lisbon Sports Club actually more of a sports club with the subject of golf, as a designter golf course with all the amenities that you might expect one or other of the golf club in Portugal.
Who can live with it will find a place that is exciting to play away from the crowds, certainly is rarely crowded and where you can concentrate on playing golf / should.

Those looking next to the game good food, an attractive clubhouse and various other amenities, should to avoid disappointment rather prefer other places.
Translated by Google.
Response from Hugo Amaral, Manager at Lisbon Sports Club
November 7, 2016
Dear Rodi, Thank you very much for your kind review. We, at Lisbon Sports CLub, are very proud of our history and tradition, so we have characteristics that are diferent than most of the clubs in… More
Dear Rodi,

Thank you very much for your kind review.

We, at Lisbon Sports CLub, are very proud of our history and tradition, so we have characteristics that are diferent than most of the clubs in the region.

Your review showed that, and we think that you've summarized perfectly this diferences.

Best regards,

Hugo Amaral