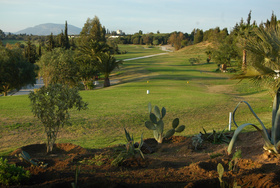 Yasmine Golf Course, Hammamet, Tunisia
More photos

Yasmine Golf Course
B.P. 61
TN-8050 Hammamet
Tunisia
Map / Directions
Phone: +216 (0) 72 227 001 -665
Fax: +216 (0) 72 226 722
Package: 7 Nights B&B and 5 green fees
Courses to choose from: Golf Citrus or Yasmine Golf Course
Dates available: 1.4. - 31.10.2013
The Club
General Information
Founded: 1991
User Reviews
| | | |
| --- | --- | --- |
| 5 Stars: | | 1 |
| 4 Stars: | | 1 |
| 3 Stars: | | 2 |
| 2 Stars: | | 0 |
| 1 Star: | | 0 |
Most Recent Reviews
Automatic translation
Original version
Has seen better days
3.0 out of 5 starsReviewed March 7, 2012
Fairways: overall okay but the right and left of it easily neglected. GUR / of bounds / water very sloppy to not inserted.
Greens: quality rather good, but borderline to play. If you do not know the place and position of the flag not just by luck on many holes a 2-putt. Pin positions are not offered.
Clubhouse: Heard again renovated and cleaned. Overall, slightly grubby appearance.
Overall impression: It has the name of the builder of many guests but doing too little for the maintenance
Translated by Google.
Automatic translation
Original version
Upgradeable
3.0 out of 5 starsReviewed October 31, 2010
Have played the course on Oct 20910 2x. Currently, a second 18-hole course next door is apparently built to a high standard to when that is completed in the fall of 2011 is also the current space completely remodeled. According to the condition of fairways and greens is significantly decreases in 2011 and will probably not be very good. A very hilly, very visually appealing site in typical "old England" style, with doglegs gegenläugig sloping landing area, a lot of bushes, tw narrow fairways and rel. small greens, all felt on top of a mountain. Large driving range, putting green, the best is with a view to Djerba :). Quite a challenging course with beautiful clubhouse and even more beautiful clubhouse terrace. I guess that here in 2013 (significantly more intense Greenkeeping provided) will be a top place. At the moment, not bad.
Translated by Google.
Automatic translation
Original version
Beautiful Place
4.0 out of 5 starsReviewed September 20, 2009
Do very often vacation in Hammamet and am always impressed by Yasmine Golf Club, although it sometimes falls short to the club with the transfer from the hotel. Course is challenging, not so great care as ours, but it is a great pleasure to play there especially in March to June and then again from September to December. Ulrike
Translated by Google.
Vacation Rentals for Golfers