5 stars
Palais Aziza & Spa
Marrakesch, Morocco
7 nights & 5 green fees
Dates available:
| Date | In double occupancy | In single occupancy |
| --- | --- | --- |
| 7.2. - 2.4.2020 | from € 1431,- | from € 2481,- |
| 3.4. - 19.4.2020 | from € 1629,- | from € 2875,- |
| 20.4. - 25.4.2020 | from € 1431,- | from € 2481,- |
| 26.4. - 18.6.2020 | from € 1326,- | from € 2271,- |
| 19.6. - 10.9.2020 | from € 1228,- | from € 2074,- |
| 11.9. - 31.10.2020 | from € 1326,- | from € 2271,- |
Prices per person. Other dates on request.
10% discount on lodging when booked 60 days before arrival for the period 26.4. - 31.10.2020 already included!
This package can also be booked with a better (higher) room category:
from €1228,- per person in double occupancy
Conveniently close to the beating heart of Marrakech, Palais Aziza & Spa, discreetly nestled away in the heart of the exclusive palm Grove "La Palmeraie", it is an elegant and serene haven of luxury and simplicity.
This five star deluxe boutique hotel offers richly appointed guest rooms, suites, pavilions and garden villas tucked away in 5 acres of lush gardens planted with fruit and palm trees and lined with flower beds tastefully laid out around patios and pools. Harmoniously blending traditional Moroccan architecture with state of the art amenities, attentive service and outstanding facilities created to seduce the discerning traveler.

Nearest Airport
Marrakech Menara (RAK) - 14 km, 31 mins
100% verified reviews from Albrecht Golf Travel clients
Automatic translation
Original version
Fantastic, quiet hotel in lively Marrakech
Reviewed February 17, 2020
The hotel is fantastic with a very nice and well-kept garden and pool area. Spacious rooms. Staff is very friendly. Breakfast buffet - wide selection of dishes. (Indoor) spa area has room for improvement. Hotel is a bit away from the city center, which brings peace, but also a possible further walk (approx. 4-5 km) to the city center. Shuttle services to the city center are offered by the hotel (some of which are free of charge).
Golf courses great; well-kept grounds (Feb. 2020), Al Maaden, Royal Golf Marrakech, Samanah +++, Amelkis ++, Montgomerie you don't have to play.
Translated by Google.
Automatic translation
Original version
Worst 5 star hotel we have ever been to
Reviewed January 14, 2020
The style of the hotel and the room is very appealing. The room decor is very tasteful.
The a la carte breakfast was good.
We played the golf courses Amelkis, Royal, assoufid, Montgomerie and Al Maaden. All places are recommended and well maintained, except for Montgomerie. The square is located in the middle of new apartments, surrounded by noisy streets.

The lighting in the room and bathroom was not sufficient to put on makeup.
The water in the shower did not run off and regularly led to a great stench.
The safe's battery failed twice, which is why we had to inform and wait several times until the problem was solved. The hotel staff roared loudly to clarify who cares.
The lobby and the restaurant were not heated and it quickly became uncomfortable without warm jackets.
The staff (apart from the restaurant) was unmotivated and not trained to the standard of a 5 star hotel. The reception was partly empty. The check-in took over half an hour.
We were not asked whether everything was OK during or after our stay. No hotel manager was present for the entire week.
The lady in the spa made us aware that we should not use towels (!) If we only used the hammam and did not book a treatment.
Apart from us, only three other hotel guests were present. Nevertheless, we were given a dark room in the last corner of the complex without a view.
We had dinner in the hotel once. Unfortunately, we didn't like it, which is why we ate the other days outside.
A can of tonic from the minibar costs around 5 euros.

Unfortunately we cannot recommend the hotel.
Translated by Google.
Automatic translation
Original version
Nice hotel / better to book without half board
Reviewed January 10, 2020
Our stay was great. The only criticism is the menu in the restaurant. This did not change during the entire stay and we were forced to order some dishes a second time due to lack of choice. Better not book half board next time.
Translated by Google.
Wednesday

26°C
Thursday

29°C
Friday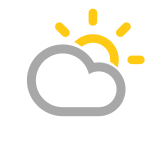 31°C
Palais Aziza & Spa
Mejjat 3/38, Cercle Ennakhil, Commune J'nanate, MA-40000 Marrakesch, Morocco