5 stars
Hotel Quinta da Marinha Resort
Cascais, Portugal
7 nights & 5 greenfees
7 Nights in a Double Room with Balcony including breakfast
5 unlimited green fees at the Quinta da Marinha Golf Course
Free access to the Health Club (sauna, Turkish bath, heated swimming pool, gym)
Booking a second daily round only possible depending on the availability of local
Dates available:
| Date | In double occupancy | In single occupancy |
| --- | --- | --- |
| 1.11.2018 - 31.3.2019 | from € 599,- | from € 863,- |
| 1.4. - 30.6.2019 | from € 714,- | from € 979,- |
| 1.9. - 31.10.2019 | from € 714,- | from € 979,- |
Prices per person. Other dates on request.
from €599,- per person in double occupancy
7 nights & 5 greenfees "Cascais Golf Passport"
Dates available: 15.9. - 31.10.2018
Other dates on request.
from €845,- per person in double occupancy (€ 1223,- in single occupancy)
4 nights & 3 greenfees (golf pass)
Dates available: 15.9. - 31.10.2018
Other dates on request.
from €529,- per person in double occupancy (€ 756,- in single occupancy)
In the middle of the nature park Sintra-Cascais and framed by the blue waters of the Atlantic and the green Sintra Mountains, the Hotel Quinta da Marinha Resort offers its guests everything from great golf to hospitality and excellent service. Situated near a lake and surrounded by stone pines, the resort has 192 rooms and suites in the hotel building and over 60 bungalows with one or two bedrooms. The rooms are modern and comfortable and have 24-hour room service. There are three restaurants: the Five Pines with terrace and Portuguese cuisine, the Monte Mar, which is about 3 km away on the Atlantic coast and serves fish specialties, and the Rocca for gourmets. A club house, coffee shop and bar as well as the Trent Jones Bar complete the culinary offer. Another highlight is the sports offer, which includes the Health Club and six tennis courts, swimming pools (one indoor) and the resort's own golf course.

Nearest Airport
Lisbon (LIS) - 38 km, 40 mins
100% verified reviews from Albrecht Golf Travel clients
Great hotel, although other guests ruined our rest.
Reviewed September 5, 2018
There was a problem with noises coming from a group of people that were having their company annual off-site during the week we stayed in Quinta da Marinha. I am not mentioning the name of the company, let's just say they couldn't stay sober during the night and they screamed and yelled very late at night. We complained and we were offered a change of room, which we accepted. While I am very grateful to the hotel staff, and thanks to this change we could sleep, we lost quality as the first room had sun during the afternoon and the second didn't. What I don't understand is why a hotel of this quality accepts groups like this one that keep half the hotel awake at night. As I said the hotel staff was great, specially Fatima (I think it was her name), they made us feel at home. The rest of our stay was great, very nice hotel, very nice people and great golf course. I hope to be back soon.
Good
Reviewed October 1, 2017
There are no comments available for this review
Staff were very helpful and friendly; great people.
Reviewed May 31, 2017
We enjoyed the golf course at the hotel the best. It's nice and flat and easy to walk. If you play Estoril golf club you need to take a buggy; assuming your not an Olympic athlete.
Monday

26°C
Tuesday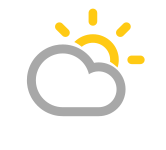 25°C
Wednesday

27°C
Hotel Quinta da Marinha Resort
Quinta da Marinha, P-2750-715 Cascais, Portugal